McKenzie River Chamber of Commerce (MRCC)
Chamber Board & Committees
Chamber Board Members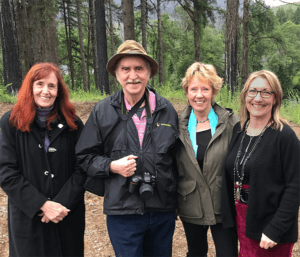 Carol, Ken, Nadine and Judy
President: Nadine Scott – [email protected]
Vice President: Ken Engelman – [email protected]
Treasurer:  Carol Tannenbaum – [email protected]
Secretary: Judy Casad  –  [email protected]
Member(s) of the Board: Chris LaVoie, Patty Starr and Michael Kruse
Active Business, Organizations and Supporting Members qualify to vote for board members every year at the Annual Membership Meeting.
The Board votes for officer positions.
---
Membership Manager
Mary Sooh – [email protected]
Finance Committee
Nadine Scott, Carol Tannenbaum
Marketing & Events Coordinator
Jerri-Jo Anderson – [email protected]
Tourism Chair
Signature Events • Local Food • Agriculture • Arts & Crafts
Carol Tannenbaum – [email protected]
To request additional information or submit feedback please use this form.