McKenzie River Whitewater Rafting
Rafting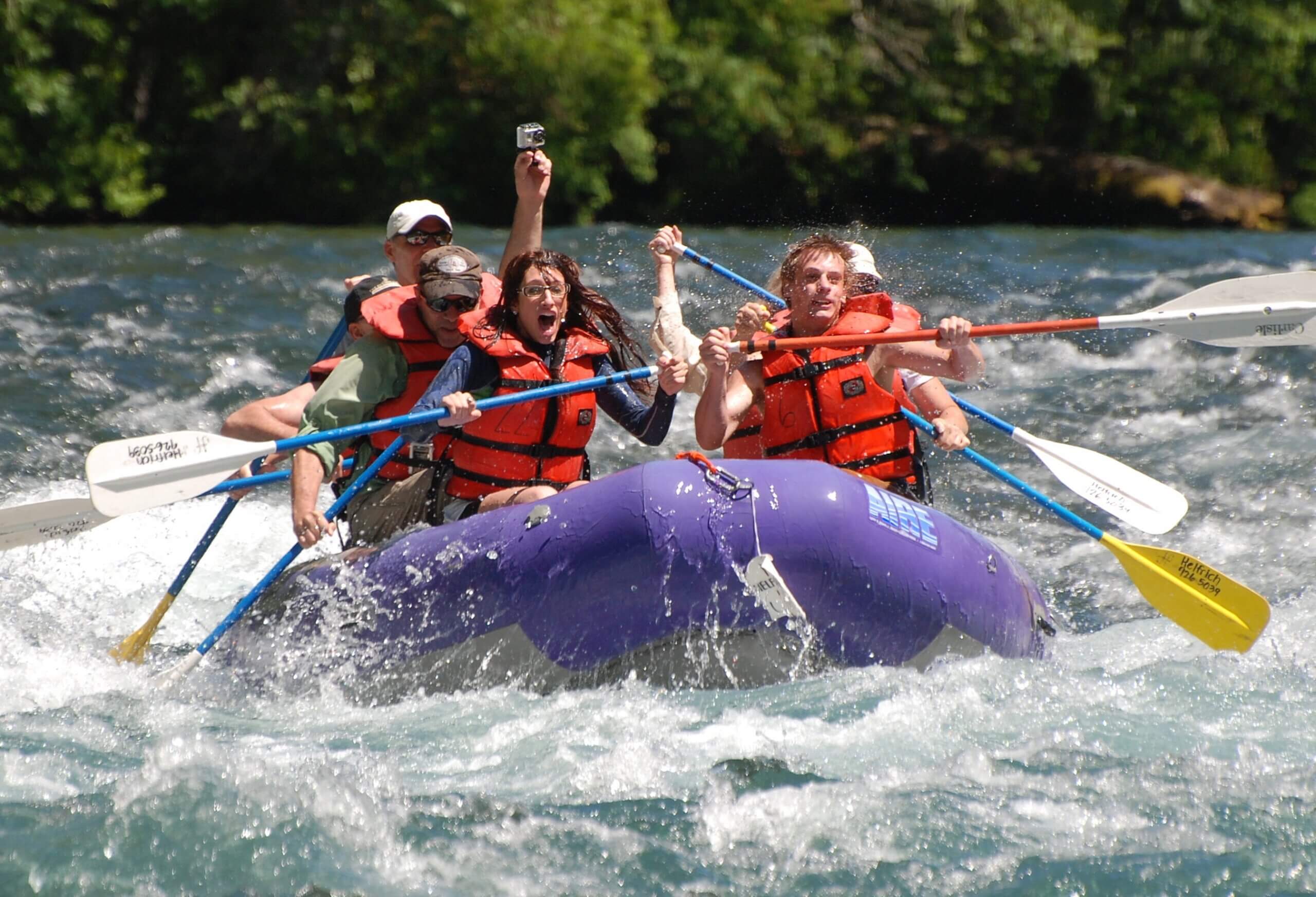 Whitewater Rafting
Create an amazing whitewater adventure with one of our many rafting guide companies on the incredible McKenzie River.  This classic alpine river springs from Clear Lake, high in the Cascade Mountain Range.  The McKenzie runs through a canyon blanketed in Douglas fir, cedar, and old growth forest.  The crystal-clear waters range from calm currents to dancing rapids.  The amazing community is framed by the spectacular scenery which includes picturesque waterfalls, beautiful wildlife, fly-fishers, hikers, bikers, and more, all with a stunning backdrop of snow-capped mountains.  This river will give you a rafting adventure you will never forget.  Select your guide from our membership list and plan ahead!
Motorize craft (except for rescue craft) are not allowed in the main stem of the river above the Goodpasture Covered Bridge.
Beginning at Mp 8 near Walterville on McKenzie Hwy 126 heading EAST and continuing beyond the town of McKenzie Bridge.
The mile post markers (Mp) switch after Paradise Campground and start at Mp 18 and go down as you head east.
Taylor, Walterville, McKenzie Hwy Mp 11, right on Deerhorn Rd, Mp 3
Hendricks Bridge Wayside Park, Walterville, McKenzie Hwy Mp 11.5 right on Hendricks Bridge Road
Bellinger, Walterville, McKenzie Hwy Mp 12, left on Camp Creek Rd to Oak Point Way, Mp3
Walterville, Walterville, McKenzie Hwy Mp12.5 on right
Deerhorn, Walterville, McKenzie Hwy Mp 17.5, right on Holden Creek Rd, right on Bridge St, on left
Leaburg, Leaburg, McKenzie Hwy Mp 19.5, on right across from East Lane Veterinarian
Greenwood, Leaburg, McKenzie Hwy Mp 22, right on Greenwood Drive, on left
Lloyd Knox Waterboard Park, Leaburg, McKenzie Hwy Mp 24, right over EWEB dam, right to fish hatchery
EWEB, Leaburg, McKenzie Hwy Mp 25.5 on right
Helfrich Landing, Vida, McKenzie Hwy Mp 28.5, right on Thomson Lane, stay left
Ben & Kay Dorris State Park, Vida, McKenzie Hwy Mp 29.1, right into park
Rennie's Landing, Vida, McKenzie Hwy Mp 32
Silver Creek, Vida, McKenzie Hwy Mp 34
Finn Rock, Vida, McKenzie Hwy Mp 38, right on Quartz Creek, stay left
Forest Glenn, Blue River, McKenzie Hwy Mp 40.5 on right
Hamlin Landing, Blue River, McKenzie Hwy Mp 43.5 on right
Bruchart, Blue River, McKenzie Hwy Mp 45.5, right on Aufderheidi Rd
McKenzie Bridge Campground, McKenzie Bridge, McKenzie Hwy Mp 49.5, right into campground
Paradise Campground, McKenzie Bridge, McKenzie Hwy Mp 54, left into campground
Frissell, McKenzie Bridge, McKenzie Hwy Mp 16.5
Olallie Campground, McKenzie Bridge, McKenzie Hwy Mp 13, left into campground