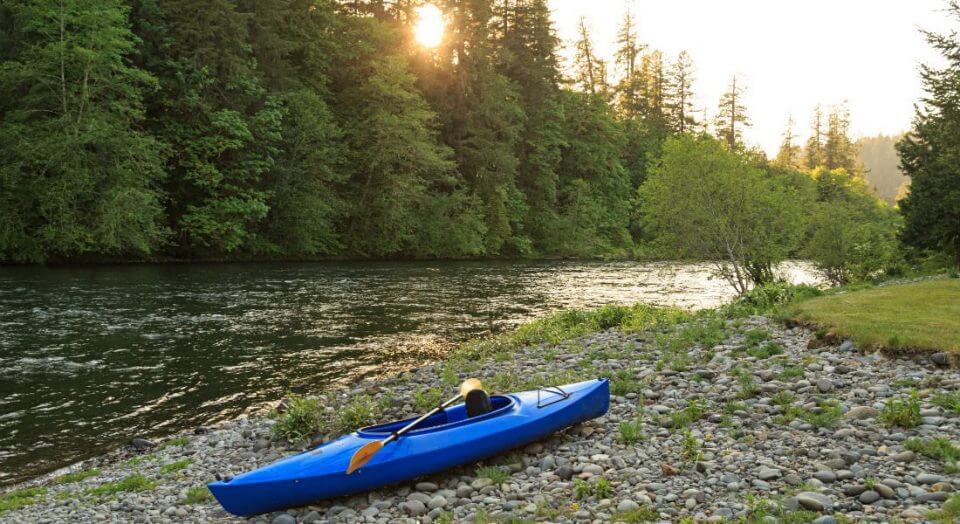 Kayak the McKenzie River
With a long season, breathtaking scenery, and a couple great play spots, the McKenzie River is a hotspot for kayakers.  There are many "put-ins" and "take-outs" throughout the river, giving kayakers the option to run Class II to Class V runs.  This makes the McKenzie River a great river to learn on with a guide down for the simpler lines while also being a paradise for experienced paddlers on some of the harder drops.  This heavily forested setting has produced some of the finest paddlers in the world, including 2003 World Champion Jay Kinkaid.
Motorize craft (except for rescue craft) are not allowed in the main stem of the river above the Goodpasture Covered Bridge.
Beginning at Mp 8 near Walterville on McKenzie Hwy 126 heading EAST and continuing beyond the town of McKenzie Bridge.
The mile post markers (Mp) switch after Paradise Campground and start at Mp 18 and go down as you head east.
Taylor, Walterville, McKenzie Hwy Mp 11, right on Deerhorn Rd, Mp 3
Hendricks Bridge Wayside Park, Walterville, McKenzie Hwy Mp 11.5 right on Hendricks Bridge Road
Bellinger, Walterville, McKenzie Hwy Mp 12, left on Camp Creek Rd to Oak Point Way, Mp3
Walterville, Walterville, McKenzie Hwy Mp12.5 on right
Deerhorn, Walterville, McKenzie Hwy Mp 17.5, right on Holden Creek Rd, right on Bridge St, on left
Leaburg, Leaburg, McKenzie Hwy Mp 19.5, on right across from East Lane Veterinarian
Greenwood, Leaburg, McKenzie Hwy Mp 22, right on Greenwood Drive, on left
Lloyd Knox Waterboard Park, Leaburg, McKenzie Hwy Mp 24, right over EWEB dam, right to fish hatchery
EWEB, Leaburg, McKenzie Hwy Mp 25.5 on right
Helfrich Landing, Vida, McKenzie Hwy Mp 28.5, right on Thomson Lane, stay left
Ben & Kay Dorris State Park, Vida, McKenzie Hwy Mp 29.1, right into park
Rennie's Landing, Vida, McKenzie Hwy Mp 32
Silver Creek, Vida, McKenzie Hwy Mp 34
Finn Rock, Vida, McKenzie Hwy Mp 38, right on Quartz Creek, stay left
Forest Glenn, Blue River, McKenzie Hwy Mp 40.5 on right
Hamlin Landing, Blue River, McKenzie Hwy Mp 43.5 on right
Bruchart, Blue River, McKenzie Hwy Mp 45.5, right on Aufderheidi Rd
McKenzie Bridge Campground, McKenzie Bridge, McKenzie Hwy Mp 49.5, right into campground
Paradise Campground, McKenzie Bridge, McKenzie Hwy Mp 54, left into campground
Frissell, McKenzie Bridge, McKenzie Hwy Mp 16.5
Olallie Campground, McKenzie Bridge, McKenzie Hwy Mp 13, left into campground