Newsletters
Keep updated on our events and read about the good our members are doing in the community.
Summer 2019
Cycle Oregon 2019 Dancing in the Rain
Cycle Oregon came to our beautiful Valley, September 9, 2019. A big THANK YOU to all of our community volunteers and the South Eugene's girls basketball team who made Cycle Oregon a successful and fun filled event. I believe we had over one hundred volunteers at different sites during the two day event. 2000 cyclists gathered to be served a hot dinner on Sunday night at Tokatee golf course. The cyclists smiled and seemed very grateful, despite the torrential rain storms. I think the servers were the only dry people at the compound and a handful of folks that could fit under the Beer Garden tent.
Live music brought out a few dancers, I guess that was called "Dancing in the Rain." Over 1,000 tents were set up for camping. Large tents were erected for seating for meals. Tables were decorated with wood sculptures, that were later sold. Many food trucks provided beverages and the meals. The McKenzie Chamber of Commerce had an informational booth, under a tent luckily. A few other venues participated.
Sean Davis greeted the cyclists and thanked them for coming to our valley and for contributing $20,000 in exchange for volunteers that were needed for many different stations in order to make this event successful. The money will be distributed to the different organizations that volunteered by Marilyn Cross of the McKenzie Community Development Committee.
Nadine Scott welcomed the cyclists and told them about the many recreational activities our valley has to offer and invited them to come back with their friends and families to explore our area and consider the possibilities of making this area their home.
Summer 2018
If you don't succeed, try and try again. Change is good. You never know until you try. Never say "been there, done that". The strong will pursue. Positive attitudes prevail. Think outside the norm. We are all in this together. It takes a village to survive and succeed. Work together and you will be successful. Don't be afraid to ask for help. When you see a new face, say, "hello there".
Business is all about relationships and commitment. First impressions are so important. To succeed in business you must be committed. Your business will only grow if you grow with it. Don't stagnate. Step outside your business and take a look inside, from an outside perspective. What did you see? Ask customers what products or services they would like you to provide. Keep in touch with current events for the area. Post event posters and have flyers available in your lodges or on counters of your businesses. We are a tourist oriented area. When folks arrive, they want to be entertained and know where to eat, sleep, drink, hike, relax, boat, fish, bike and enjoy nature of our area. Your staff needs to be informed and educated in these areas. It is so important to stay up-to-date.
The McKenzie River Chamber of Commerce is not a political group. We have discussed this many times as a Board. Members of the community have raised concerns that they do not want to join the Chamber because they don't want to be political. We understand. If any members would like to give input about how we should address this subject, the Board would appreciate your thoughts. We are your Chamber. We want to hear from you and serve your goals and needs. We appreciate your input.
Download free handout about the Rural Property Initiative!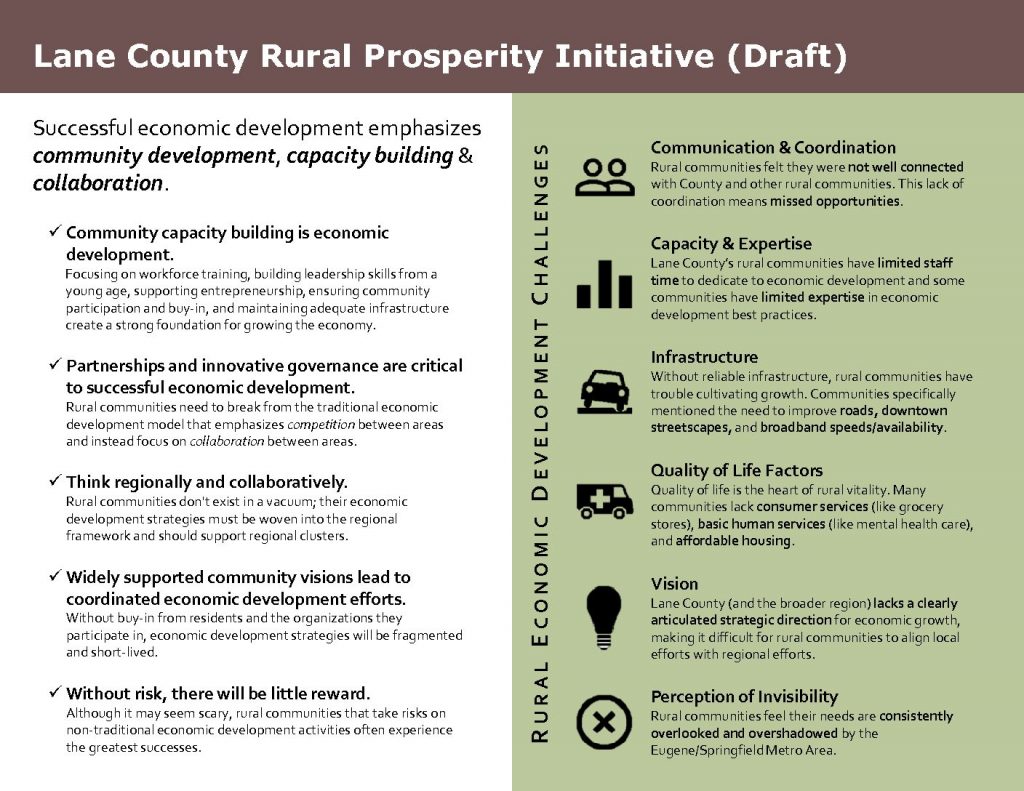 What a terrific Meet & Greet!
The Meet & Greet After Hours Event on May 23rd at Takoda's Restaurant was a great success. Many members along with new folks attended to hear informative speakers. Great research results and many impressive ideas were presented about how to improve your business and a fantastic time was had by all. Look for the next Meet & Greet on our website!
Meet the new board:
I am so excited to welcome our new enthusiastic Board for 2018:
President: Nadine Scott, Windermere Real Estate
Vice President: Ken Engelman, River Reflections Newspaper
Secretary: Edie Blair, retired, local property owner
Treasurer: Carol Tannenbaum, Lavender Farms, Tourism Committee Board Members: Chere Estrin, Organization of Legal Professionals, (Newsletter Editor); Matt Michel, Lane Electric Coop; Chris LaVoie, McKenzie Mountain Resort; Judy Casad, Windermere Real Estate.
We are looking to fill a few more positions for this year. Contact one of our Board members for more information.
What's new:
Ray Blair, Executive Director, has graciously decided to volunteer his time to the Chamber instead of taking the annual salary offered. He would like to give back to the community to expand the Chamber of Commerce. Thank you, Ray. You are very dedicated and do so much for us. You are our inspiration!
Sean Davis of McKenzie Bridge, has joined our team as a Website Project Manager and Website Maintenance Manager. Welcome Sean! We are very excited to have you on the team. Next month, the Board will update you on our new and improved website.
Always Call Your Mother~~
Best Regards
Nadine Scott President
[email protected]
What's Happening in Your Chamber of Commerce
The Community Turns Out for Blue River Beautification Effort
On a warm and pleasant Saturday in late April, over 20 McKenzie River community members including those from Blue River, organized a beautification effort. This hearty group brought their labor intensive strengths and pitched in to toss litter, pull weeds, cut down excess foliage, sweep, wash down and spruce up the area. In particular, volunteers assisted the areas surrounding Meyer's General Store, Azul Art Gallery and other local businesses.  The group was supported by the Chamber.
Ray Blair, Executive Director, put it this way. "It's encouraging to see so many active community members from all over the McKenzie Valley involved in beautification efforts. We intend to keep this endeavor going. We encourage you to come and join in at our next volunteer event. The rewards are tremendous."
Thanks, Blue River, for allowing us to participate!
Do you have new clients? You can now purchase a Welcome Basket to give to new members of the community. In it, you will find brochures, guides, the Newcomer's Guide to Life on the McKenzie River from the Chamber, and a ton of information about the McKenzie River in a beautifully crafted basket.  Membership benefit: Add a brochure about your own business! For more information: [email protected]
Download this free guide!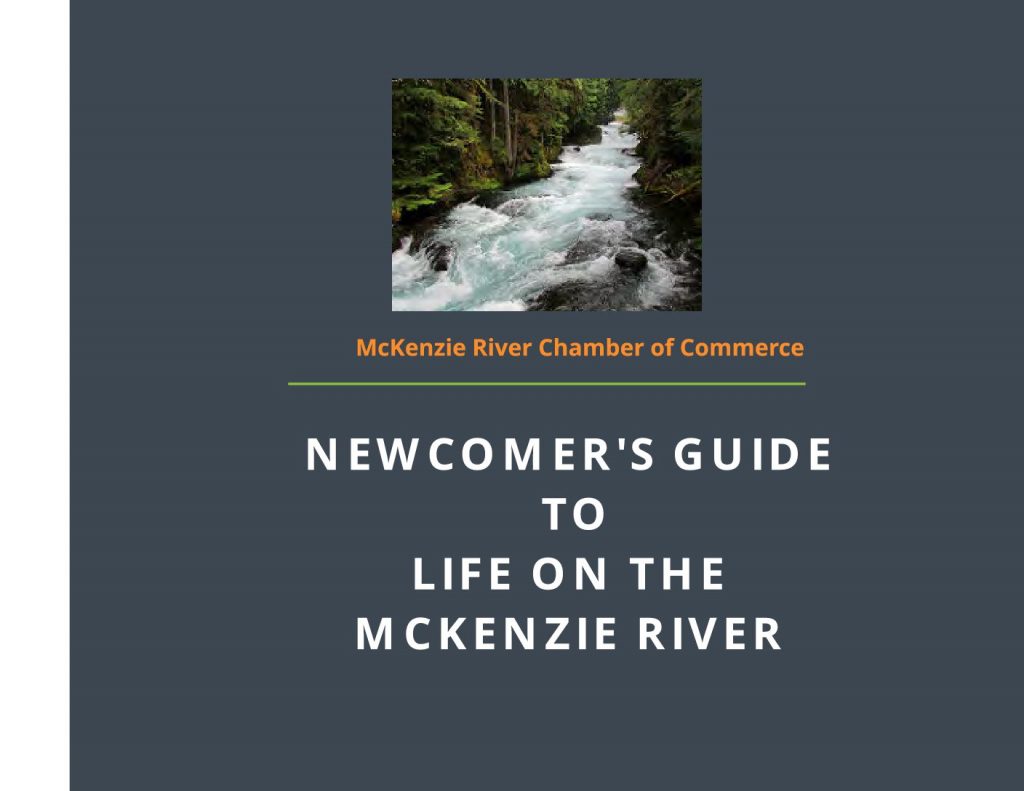 Mixer with CDC a Great Success!
Speakers present vital information
By Marilyn Cross
Another successful event that brought people together from the length of the McKenzie River was the combined mixer of the Chamber and the CDC (Community Development Corporation). The After Hours Event provided social time as well as an opportunity for dialogue on issues of interest to the many organizations and people who work to make our home a better place.
The event's program focused on two projects brought to the McKenzie River Area by Rural Development Initiatives. Michael Held provided an update on the Business Retention and Expansion project and Anne Mitchell presented the results of the First Impressions project.
The strong sentiment of those I spoke with suggested that combining the McKenzie CDC Mixer and the Chamber's After Hours event was a good model for future gatherings and the next event should focus on how best to use the findings of the two RDI projects.
I would like to thank everyone who put this event together and all those who attended….another indication of what a great place the McKenzie River Valley is to live, work and recreate. What an amazing group of people we have working to make it better all the time.
Marilyn Cross is the Secretary of the CDC, member of the McKenzie River Clearwater Coalition and serves on the board of several non-profits. She is a long-time McKenzie River Area resident.
New Scenic Byway Status for McKenzie
By Ken Engleman
Three new stretches of Oregon roads have been singled out for the rich experience they offer when you travel along them, earning new "Scenic Byway" designations. With approval from the Oregon Transportation Commission on April 19th, and the Oregon Tourism Commission, the new routes bring to 29 the number of Scenic Byways crisscrossing the state.
"The Scenic Byway program thrives on and is the focal point for many communities across the state," Director Matt Garrett told the Oregon Transportation Commission. "The program is a grassroots effort, with support from local residents and businesses interested in preserving and enhancing local scenic roads, diversifying the local economy and promoting tourism opportunities."
The three new designations are:
McKenzie River Scenic Byway – Highway 126 east of Eugene that travels along the McKenzie River and connects to the West Cascades Scenic Byway.
Mary's Peak to Pacific Scenic Byway – State Highway 34 that connects I-5 to the coast by way of Corvallis to Waldport.
Tillamook Trees to Seas Scenic Byway – State Highway 6 starting in Banks in rural western Washington County, passing through Tillamook State Forest and ending at the Cape Mears peninsula.
The routes will be included in the next Oregon Scenic Byways Official Driving Guide.
Ken Engleman is the Publisher of the McKenzie River Reflections and Vice-President of the Chamber. Ken was recently awarded Travel Lane County's 2018 Tourism Ambassador Award for the McKenzie River.
Meet Joshua Cloke, New Member
Currents gets nosy with one of our newest members:

How long have you been in the McKenzie River Valley? My family moved here in January 2018 after my wife started working as a full-time nurse practitioner in the McKenzie River Valley. The move has allowed our family to have more time together and we love all of the opportunities to spend time outdoors.
Tell us a little about your background. I grew up in rural Iowa and married my high school sweetheart. My wife and I both went to college in Iowa and we have never lived more than hour from where we grew up. The transition to Oregon was a big decision, but one made to better our life with our kids. We enjoy an outdoor life style and we wanted to stay in smaller community that would best resemble where we grew up on the banks of the Mississippi River. The McKenzie River Valley has been perfect for our family with many of the outdoor activities that we enjoy such as fishing, boating, and hiking along with a friendly, relaxed community.
This is an interesting business you brought here. I joined my father, Curtis Cloke, as a financial advisor in Acuity Financial 10 years ago . This business allows me to help people achieve their financial goals by providing accurate, honest advice. We focus on retirement planning, asset management and estate planning as well as health insurance, disability, and life insurance. We have clients all over the country from New York to Florida, California, and Washington. We have another business, Thrive Income Distribution System, where we provide financial planning software and customize retirement plans for other advisors all over the world as a 3rd party planner. We pride ourselves in putting our clients first. Because of our experience, we have been asked to provide industry education through the American College RICP program, and to Texas A&M's financial planning program.
What would you like the Chamber to do for you and other members? A Chamber brings a positive and strong platform for any community to grow. As a Board member of our Chamber back in Iowa, I understand there are essential decisions that need to be addressed to help a community grow. I believe the McKenzie Chamber has an obligation to not just grow our community but grow it very focused and positively. The McKenzie River Valley has so much value – not only in its beauty and natural resources, but also in its rich history, culture, and people. The main benefit I am looking to get from the Chamber is networking and staying involved and up-to-date regarding our community.
Enjoy a New Benefit for Members – Welcome Baskets
Do you have new clients? You can now purchase a Welcome Basket to give to new members of the community. In it, you will find brochures, guides, the Newcomer's Guide to Life on the McKenzie River from the Chamber, and a ton of information about the McKenzie River in a beautifully crafted basket. Membership benefit: Add a brochure about your own business! For more information: [email protected]
Tourism Committee Meeting
The Tourism Committee is one of the most interesting and exciting committees in the McKenzie! It supports our Signature Events such as the Chainsaw Festival, McKenzie Frenzy, Wooden Boat Show and more. Do you have an event? Would you like to know more about promoting tourism? Come to the meetings the second Tuesday of each month. Get on the email list: [email protected]
Get Your Business Featured!
Membership benefit: Are you a member and would like your business to be featured on the Chamber's website or in the newsletter? Have a story you would like to share? Let us know! Contact Chere Estrin, Newsletter Editor: [email protected]
Are You a Member?
Gain tremendous networking, reach new customers, get great educational sessions, PR and help promote the McKenzie Valley by joining the Chamber now!